After Stephen Curry 'Willfully' Gave Up $2000 of His $48,070,014 for Draymond Green, Klay Thompson 'Hilariously' Explained His Stance to Warriors' Fans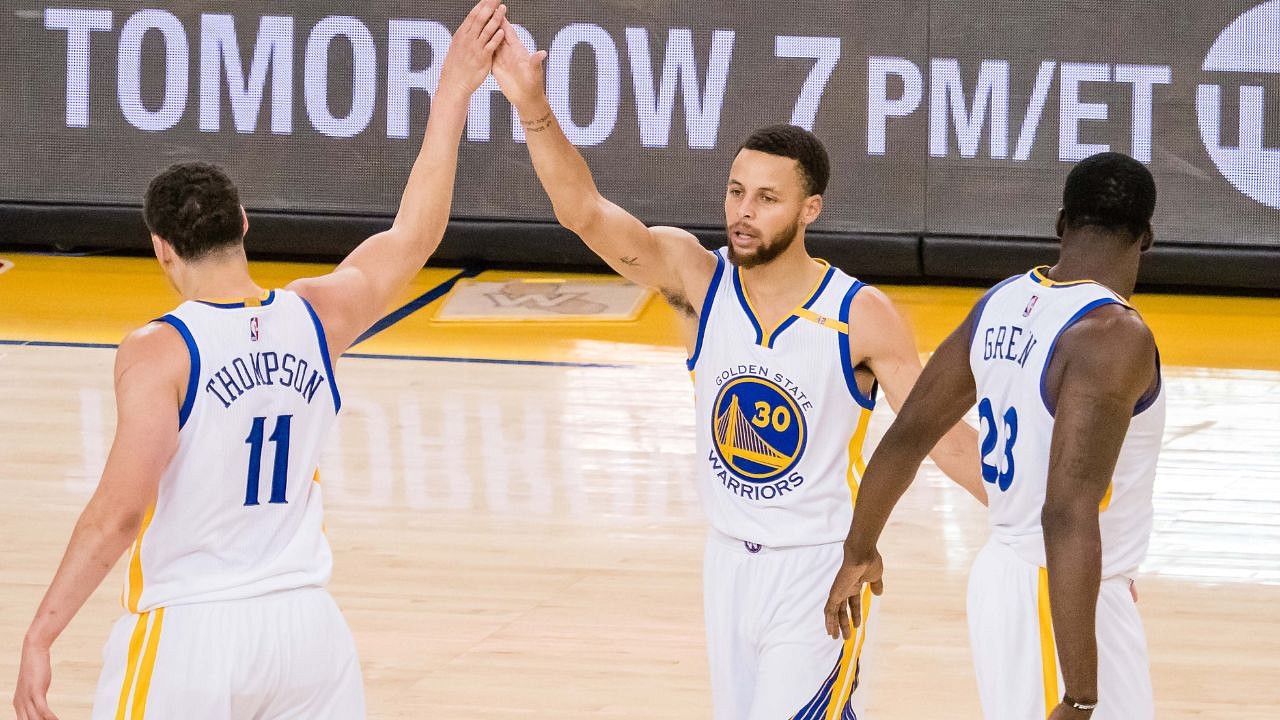 Apr 19, 2017; Oakland, CA, USA; Golden State Warriors guard Klay Thompson (11) high fives guard Stephen Curry (30) with forward Draymond Green (23) during the first quarter in game two of the first round of the 2017 NBA Playoffs at Oracle Arena. Mandatory Credit: Kelley L Cox-USA TODAY Sports
During a regular season game last season, the Warriors fans witnessed an incredible moment of solidarity from Stephen Curry. In the Minnesota Timberwolves vs. Warriors game on 27th November, Draymond Green was slapped with a late-game technical foul from the bench. This made Green quite frustrated, and Stephen Curry decided to act immediately.
In solidarity, Curry picked an intentional tech foul less than a minute after Green. Chef Curry was called out for celebrating on the court while the ball was in play. The 'Petty King' was more than glad to pay the fine, which accounted for $2000 of his $48,070,014 annual income. But on the other hand, Klay Thompson was unwilling to sacrifice his money by picking a foul in solidarity.
Steph Curry's net worth in 2023 is estimated at around $160,000,000. He is one of the highest-paid athletes in the world, having signed two $200 million plus deals recently. So, losing $2000 of this money isn't much for him. But for Klay Thompson, losing his money over a technical foul meant a lot to him. And in all fairness, the Warriors fan were okay with this move from Thompson.
Klay Thompson did not join Stephen Curry and Draymond Green in solidarity on their technical fouls
Stephen Curry, Klay Thompson, and Draymond Green are the three most important pillars of the Golden State Warriors, which won 4 NBA championships. Time and again, the three stars have stood for each other showing leadership quality and solidarity for each other. The same happened in the Minnesota Timberwolves vs. Warriors game, where Curry intentionally got a foul and received a fine.
Speaking about this later after the game, Green was elated with Curry taking one for him. But Klay Thompson wasn't ready to sacrifice his money. While Curry and Green stood in solidarity with each other, Thompson explained why he was reluctant to pick a foul during the game.
"Do you think I will wilfully give up my money? Absolutely not."
Till the time that season, Green had picked up seven technical fouls this season. If he reached 16 tech fouls, he would be suspended from one game. Unfortunately, Green received his 16th technical foul last season during a regular-season game against the Los Angeles Clippers. Eventually, Green missed the next game against the Atlanta Hawks at State Farm Arena.
Stephen Curry has lost over $100,000 through fines from fouls
Steph Curry is no stranger to paying fines due to committing fouls. Curry has lost over $100,000 for throwing his mouthguard on three separate occasions. But with the enormous amount of money Steph earns, it's no big deal for the baby-faced assassin.
According to Sportrac, Curry has incurred separate fines of $25,000, $50,000, and $25,000 for throwing his mouthguards. Perhaps, such fouls are all fair and square in Steph's high-intensity games every season.
Siddid Dey Purkayastha |Đã xuất bản ngày 13 tháng 8 năm 2023 Theo chúng tôi